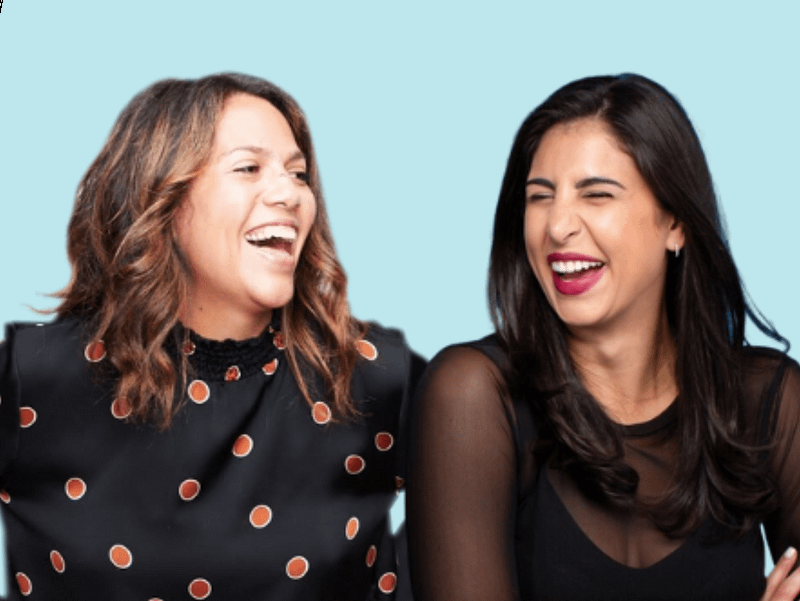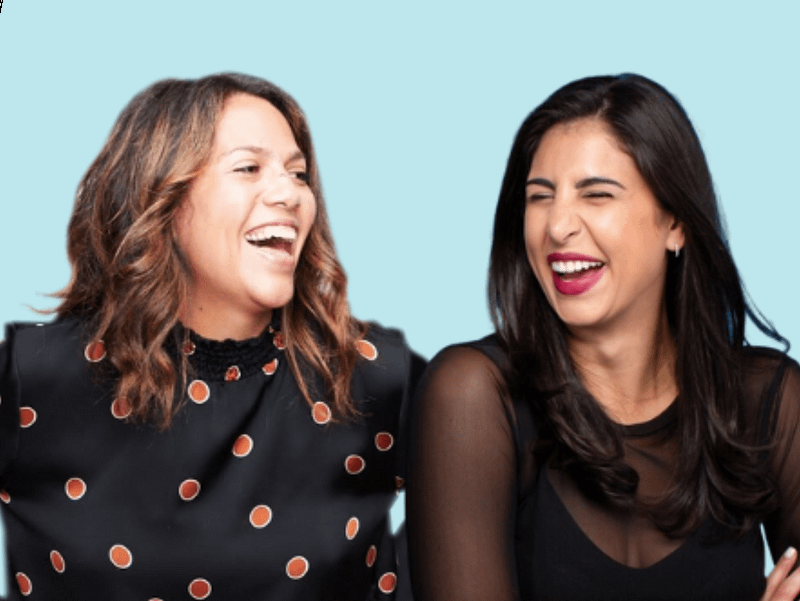 Finding mr height: the podcast
Positive & practical advice from the dating trenches to help you take control of your dating life.
From her TikTok and Instagram, @findingmrheight, dating coach Ali Jackson is joined by friend & stand up comedian Erica Spera (@spericaa) to bring you their positive and practical dating approach in podcast form. Their straightforward attitudes, often with some humor on the side, will help you tackle modern dating issues while building confidence and staying authentic to your true self. Follow along @findingmrheight for even more content!
Have a topic or guest suggestion? A dating question? General feedback or a storytime submission? send it here!
Want bonus content? Subscribe to our Patreon for an extra episode every week (including ad-free video of the podcast) plus spicier dating updates and the FMH Discord.
Rock your favorite FMH sayings in your daily life! Tell the world that being needy is normal. Declare that you're too sleepy. Give anxiety a kick in the butt and say it's a future you problem. 
We are so fortunate to have incredible sponsors for the podcast and you can find those discount codes here! We always test the products to ensure we absolutely love them. looking for a promo code Ali shared on her socials? find them here. 
Ali Jackson is a 35-year-old dating coach with a positive mindset who's been there, in the trenches, looking for her person in New York City. She's taken her experience and turned it into personalized programming designed to help you refine what you're looking for…and then go get it. Now, she brings that expertise to the world of podcasts alongside her good friend, ERICA. Learn More or follow her on TikTok & Instagram.
Erica Spera is a New York City based stand up comedian. She has been seen on The Late Late show with James Corden, and was one of TBS' Comics to Watch. She has opened for comics such as Taylor Tomlinson, Bert Kreischer, Patton Oswalt, Jared Freid, and more! Spera also hosts the popular podcasts "Finding Mr. Height" and "Shooters Gotta Shoot" all about dating and relationships. You can follow her @Spericaa
Going through a breakup? Anxious thoughts feeling overwhelming? Struggling with dating app burnout? Hit Ctrl+F (or Command+F) to search for the perfect episode.
Episode #146 - The Mother Daughter One
In honor of our recently-launched mother/daughter trip to Portugal, Ali & Erica have invited their moms on the show! We're answering your questions: everything from who our moms think we should date to their best tips for lasting relationships. Get a glimpse into our relationships before the trip and learn more about the itinerary at the links in either of our IG bios. We're staying in the heart of Lisbon and then journeying down the Algarve coast in October 2024!
Episode #145 - The Gifts For Men One ft. Sebastian Conelli & Robbie Nunes
It's that time of year where we all agonize over what to get the men in our lives, whether they're partners, brothers, sons, or friends. So Ali & Erica sat down with Sebastian Conelli & Robbie Nunes, co-hosts of the Loud About Nothing podcast, to talk gifts. The four of us reveal the best (and worst) gifts we've ever gotten plus brainstorm ideas for you to use yourself!
Episode #144 - The Marry Him One
Are you too picky? Ali & Erica aim to find out this week as we dive into a book that regularly makes the rounds on social media: "Marry Him: The Case for Settling for Mr. Good Enough" by Lori Gottlieb. We discuss things that used to be dealbreakers but aren't any more, whether women need to "settle" more, and how we each navigate our preferences in dating.
Episode #143 - The Waiting for Marriage One ft. Paul Schissler
Are you waiting for marriage? Or just curious what dating is like for someone who is? Comedian (and Erica's former roommate – literally, ROOMmate) Paul Schissler joins us to chat about his journey doing just that. We answer listener questions ranging from when to divulge to people you're dating to how to ensure you're on the same page with what post-marriage intimacy might look like.
Episode #142 - The Different Cities One
Have you ever thought that your city is the worst for dating? Turns out most of our listeners do…so Ali & Erica are putting that to the test this week. We're "traveling" to different cities in our dating apps and reporting back on our findings – plus sharing feedback from the listeners! Did we skip your city? Let us know at findingmrheight.com/podcast.
Episode #141 - The Second Fertility One ft Dr. Peter Klatsky
We're back with the second installment of our fertility series, interviewing a very special guest – Erica's doctor at Spring Fertility, Dr. Peter Klatsky! We start out by busting a few fertility myths and then get into questions from our listeners! Dr. Klatsky advises us on selecting a fertility provider, pulls back the curtain on egg freezing statistics, and so much more.
Episode #140 - The Tenth Hot Topics One
Ali & Erica are taking listener questions (and bring back Weird or Nah!) in this week's Hot Topics episode. First, we debate a listener's screenshot dilemma and discuss setting boundaries in early dating. Then, we discuss how (or if) to tell a friend you think she's settling. And finally, a listener writes in for advice on working with her ex who is dating someone new.
Episode #139 - The UnF*ck Your Brain One ft. Kara Loewentheil
Are you supervising your brain? Do you even know how? Kara Loewentheil, J.D., Master Certified Coach, and host of the UnF*ck Your Brain podcast is here to help. On this week's episode, we explore topics of anxiety, particularly in the bedroom, and how to navigate through them. Kara explains how she worked to re-train her thoughts and we dive into how socialization impacts how we think.
Episode #138 - The Life Coach One ft. Rachelle Indra
Are you skeptical about life coaches? Rachelle Indra, who literally is one herself, was too! Ali & Erica are truly enthralled by her insights this week, so much so that we actually had to FORCE ourselves to end the interview. In particular, we dive deep into moving through heartbreak & healing going into a new relationship. We also touch on balancing self compassion with accountability and how to avoid toxic positivity – while remaining positive.
Episode #137 - The r/AskMen One
What do men wish women knew about them?? Well, we asked them for you (and pulled even more insights from around the internet). We hear about things like: avoiding subtlety/hints, how men don't want to keep chasing you, and gosh darnit it's nice to be the little spoon sometimes!
Episode #136 - The City Confessions One ft. Mariann Yip
Have you wondered what the transition is like from single and dating to being in a relationship? Author and lifestyle blogger Mariann Yip is telling Ali & Erica all about how she went from publishing a book about her NYC dating life to starting a family…all within a year! We chat about first dates, feeling lonely in parenthood, and letting go of what you thought your timeline would be.
Episode #135 - The Tenth Grab Bag One
Ali & Erica are taking rapid fire listener questions this week in the latest Grab Bag episode! Topics range from defining "exclusive" vs "official," determining if someone is ready to date, setting boundaries with advice from friends, to ending a date.
Episode #134 - The 37 & Single One ft. Jared Freid
Jared Freid is fresh off his hilarious Netflix special, 37 & Single, and answering your listener questions! What's the right way to set two people up? Are there certain dating app answers he hates seeing? And many more, followed by what might be our new favorite game: Pick The Ick.
Episode #133 - The Fiscal Femme One ft. Ashley Feinstein Gertsley
We're talking finances this week, with Ashley Feinstein Gertsley, CFP and founder of The Fiscal Femme. Are you wondering where/how to start investing? And if you're even ready to do that? Or maybe you're trying to create and stick to a spending plan. Ali & Erica learn some things too as we dive into all things money.
Episode #132 - The Hypothetical One
If you knew you'd meet the person you're going to marry in 5 years, would you still date? Would you rather win the lottery or find your soulmate? Ali & Erica debate some fun dating hypotheticals this week. Tune in for what Erica would say to a room full of people she's slept with and why Ali would just break into song.
Episode #131 - The Ninth Hot Topics One
Ali & Erica are back with in-depth listener questions, otherwise known as Hot Topics! This week, we discuss: reaching back out to someone you rejected (or always wondering what if), managing emotions when someone you're dating updates their app profile, & who should initiate a first date.
Episode #130.5 - The Bonus One
This bonus episode features an exclusive Patreon preview to stay on track with Ali and Erica's dating updates. Ali recaps an awkward first date that never seems to end, while Erica finds herself in a scenario where she's fighting her instincts.
Episode #130 - Listener Storytime: Sexual Assault
TRIGGER WARNING This episode centers around sexual assault.
This week, we welcome on two incredible listeners to tell their stories. They each offer a deep perspective on both their experiences and their lives since – we can't thank them enough for their vulnerability. If you're out there resonating with this episode, please know you are not alone. There are no updates from Ali & Erica in this episode – stay tuned for a Patreon teaser later this week.
Episode #129 - The Men Love Bitches One
Do men really love bitches? What IS a bitch, anyway? And can we take anything away from a book that was written over 20 years ago?? Ali & Erica debate a list of "attraction principles" from the recently-resurged bestseller book, "Why Men Love Bitches" by Sherry Argov to find out.
Episode #128 - The Wedding Etiquette One ft. Roark
She'sssss backkkkkk!!!!! Ali & Erica welcome former FMH cohost Roark back onto the pod as our guest this week. With Ali fresh off a bachelorette party, the three dive into wedding etiquette (especially wedding guest etiquette). Can you ask for a plus one? When is it appropriate to leave a wedding? And for goodness sake, can we please stop trying to wear white??
Episode #127 - The Jewish Matchmaking One ft. Pamela Rae Schuller
Pamela Rae Schuller is more than one thing – she's more than Tourette Syndrome, she's more than her stint on Jewish Matchmaking, and she's encouraging you to embrace your whole self, too. Together, we cover a wide range of topics, including dating with a disability, matchmaking, and achieving self-love.
Episode #126 - The Wedding Toast One
For those of you who don't know us…we're sharing do's and don'ts on wedding speeches, from both our own experiences and yours! How long should they be? Are certain topics off limits? And can anything be worse than a 45-minute lecture on the Boy Scout motto??
Episode #125 - The Embarrassing One
Things take a lighter turn this week, as Ali & Erica pull back the curtain on past embarrassing dating moments…and share yours! We crack up over everything from first date stomach issues to surprise queefs.
Episode #124 - the first fertility one
Do you have updated information on your fertility? This week, we share our journeys discovering our own and Ali details her egg freezing process. We discuss seeking fertility testing, administering egg freezing shots by yourself, and navigating dating while going through any of this.
Episode #123 - The Oversharing One ft. Jordana Abraham & Dr. Naomi Bernstein
We're oversharing this week! Ali & Erica welcome Jordana Abraham & Dr. Naomi Bernstein of the Oversharing podcast to the FMH family this week. The four answer several deep-dive listener questions including: how to maintain hope when early-stage dating keeps ending, approaching the engagement conversation with a partner, and deciding whether something is a dealbreaker.
Episode #122 - The Marrying For Money One
Have you ever thought about marrying for money? Ali & Erica can't help you with that, but we're breaking down some financial stats that may surprise you when it comes to getting married vs not. And spoiler alert, there's way more on the topic where this came from. Let us know what else you want to hear!
Episode #121 - The Second Herpes One ft. Ella Dawson
Why are STIs so stigmatized despite being so common? Ella Dawson, whose TEDx talk on the subject has been viewed over 800,000 times, is here to talk about about it. We discuss disclosing herpes (or any STI) to your partner, supporting a partner who's been diagnosed, advocating for yourself at doctor's appointments, and so much more.
Episode #120 - The Ninth Grab Bag One
We're answering listener questions rapid-fire style in another grab bag episode! We cover everything from feeling clingy in a long-distance relationship, to Hinge messaging etiquette, to balancing your needs with your partner's.
Episode #119 - the first kids one
We're kicking off a multi-episode series on children! We'll spread these episodes out, and invite guests on, covering how your desire to have kids affects dating, dating with kids, choosing a child-free lifestyle, fertility…and so much more. This week, we start with Erica & Ali's personal thoughts on having children and how it's impact their dating lives (plus we take your questions!).
Episode #118 - The Swipe Fat One ft. Alex Stewart & Nicci Nunez
This week, we're talking plus-sized dating with Alex Stewart & Nicci Nunez of the Swipe Fat podcast!! We take listener questions about tips for your dating app profile, achieving self confidence while dating, red flags to look for, and so much more. Note: Erica's wifi gave her major issues this week and so Ali interviews Alex & Nicci on her own.
Episode #117 - The Speaking In Thumbs One ft. Dr. Mimi Winsberg
Let's talk about text, baby…this week, we welcome Dr. Mimi Winsberg to the pod, a board-certified psychiatrist with over 25 years of clinical experience and author of Speaking in Thumbs. We dive into research on text communication and practical ways you can apply it to your dating life.
Episode #116 - The 30s Wisdom One
What have we learned about dating (and life) since our 20s? Where do we even begin?? Ali & Erica share go through listener submissions of life lessons since their 20s and add in thoughts of our own. It's the big sister chat you've been asking for!
Episode #115 - The Dating App Fatigue One
Are you tired? Because Ali & Erica are VERY tired. Of dating apps, that is. This week, we hold space for all of your (and our) fatigue with dating on our phones – from matches turned penpals, to empty profiles, to feeling like we're on a hamster wheel. It's tough out there and we feel your pain!
Episode #114 - The Diet Starts Tomorrow One ft. Emily Lubin
TW: This episode addresses disordered eating and intentional weight loss. It's an extremely vulnerable episode this week as Erica and Ali welcome Emily Lubin, of the Diet Starts Tomorrow and RIP Diets podcasts. Emily opens up about her recovery from disordered eating and the path she's taken to get there. She shares how her struggle impacted her relationships and gives advice for navigating dating while in recovery.
Episode #113 - The Eighth Hot Topics One
Ali & Erica are diving into listener questions this week! First, a listener is frustrated at a first date who says they're going to follow up and doesn't. Second, we give advice to a listener who has a crush on her friend (and hope for updates!). Lastly, we dive into early dating communication. What should we "expect" and how should we communicate that?
Episode #112 - The Dating Intentionally One ft. Talia Koren
Are you trying to go on more dates this year? How about 200? Talia Koren, otherwise known as @dating.intentionally, joins FMH this week to tell Ali & Erica all about her journey from a breakup to a healthy relationship. She went on 200 dates in less than a year and shares the most important things she learned along the way!
Episode #111 - The Cheating Quiz One
Do you think everyone defines cheating the same way? We're finding out this week, inspired by a Buzzfeed quiz that one of our listeners sent in! Erica and Ali each reveal how their Instagram audiences voted on each situation and discuss the results.
Episode #110 - The Fourth Ask A 30-Something Man One
It's our fourth Ask A Man interview, featuring Erica's close friend, the hilarious Jourdain Fisher. This one starts out spicy with some O-related listener polls and then we move on to peppering Jourdain with questions. And our producer Mike gets involved too! It's a fun one all around.
Episode #109 - Storytime: Plus-Sized Fitness & Dating
*CW: This episode centers on body image and mentions intentional weight loss & disordered eating. We continue our Storytime series highlighting listener stories with Heather Boddy, a plus-size fitness professional who shares her journey with body image. The three of us dive into what fitness means to her (and what it does not), her best tips for hyping up our friends in their own journeys, and much more.
Episode #108 - The Profile Prompts One
How's your dating app prompt game? Ali & Erica are here to help you step it up as they brainstorm their best answers to popular prompts! You'll be starting better conversations in no time.
Episode #107 - The Non-Monogamy One ft. Rachel Wright
Don't think you can relate to non-monogamy? Psychotherapist Rachel Wright just might change your mind. We talk about how relationship frameworks are changing, her personal journey from monogamy to non-monogamy, the difference between rules and agreements (and how to determine them), plus much more from listener questions!
Episode #106 - The We Met At Acme One ft. Lindsey Metselaar
We Met At Acme host Lindsey Metselaar joins Finding Mr. Height this week! We debate a slew of Weird or Nah and Mythbusters submissions, then dive into what Lindsey's learned from marriage and her journey with being sober. We wrap things up with some stellar dating app banter suggestions, pulled straight from your Hinge submissions.
Episode #105 - The Dating Etiquette One
By popular demand, Erica & Ali are debating etiquette "rules" from New York's Magazine recent article. We tackle things like "never purposefully wake up your significant other" and "you can tell any lie to leave a drinks date early." And we get your opinions on them too! It's a fun one all around.
Episode #104 - The Somatic Coaching One ft. Lauren Zoeller
This week is chock-full of practical nuggets as we welcome somatic relationship coach Lauren Zoeller to the pod. Together, we break down her nervous-system-based approach to coaching and even do some group exercises that you can follow along with at home. We're all feeling a little less anxious after this one!
Episode #103 - The First Dating Theories One
Erica and Ali are back with our second installment of debating dating theories! This week, we cover theories like "if it's not a f*** yes, it's a f***no," whether we're more likely to value someone who "made us work for it," and more.
Episode #102 - The First Dating Theories One
It's time for a debate! A TikTok dating theories debate, that is. This week, we've found some popular theories to discuss, including red nail theory, having a "roster," coffee as a first date, and manifesting your perfect partner.
Episode #101 - The Plastic Surgery One
It's a longgg awaited topic on FMH – plastic surgery and cosmetic procedures. We dive into the shift in recent statistics in these areas and how the last few years have shifted all of our perceptions of ourselves. Then, we get personal, both sharing our own experiences with plastic surgery and how we feel about it years later.
Episode #100 - The tinder live one ft. lane more
Have you ever swiped on a dating app in a group of friends and felt a sense of community in your shared experiences? Our guest this week, Lane Moore, brings that feeling to the stage in her hilarious Tinder Live shows. We chat about green (and red) flags on a dating app profile and share our best tips!
Episode #99 - The Seventh Hot Topics One
We're back with our latest Hot Topics, where we answer listener questions from our submission form! This week, we start out with a motion-sickness-related AITA. We then advise a listener on communication in between a second and third date, analyze a drawn-out dating app conversation, and discuss how to frame when you're taking a break from work.
Episode #98 - The Third Ask A 30-Something Man One
Ask and you shall receive…it's Ali's brother on the pod! Drake (no, not *that* Drake) joins us for our third installment of Ask A Thirty-Something Man and we answer a ton of listener questions ranging from how guys – or at least Drake – feel about a woman asking them out to whether "bad timing" is just an excuse.
Episode #97 - The dating wrapped one
You've seen the videos all over social media…for our last podcast of the year, we are bringing you our own FMH version of Dating Wrapped! We share YOUR annual dating stats plus review our own year in dating, including how many first dates we went on, how many we actually wanted second dates with, and how many went…further. We wrap things up with our dating goals for 2023, informed by what we've learned from this year!
Episode #96 - the first storytime one ft. tara resnick
We're introducing a new series on Finding Mr. Height…Storytime! Where we'll hear from listeners as they share their stories and the lessons they've learned. This week, Tara Resnick joins the pod to tell us about a 5-year toxic relationship that she struggled to end. She shares how hard it was to "blow up her life" at 37 and where she's at with her journey two years later.
Episode #95 - the second dating definitions one
Dating Definitions is back for round two! We continue last week's discussion, starting with the wiiiiiild number of ghosting-adjacent terminologies. Who knew haunting and orbiting were different? And what is a sneaky link? Or a groundhog?
Episode #94 - the first dating definitions one
If you were hoping to hear us get fired up over the definitions of made-up words…your wait is over. This week begins our series on dating definitions and we kick things off with debating why all these definitions even exist. 
Episode #93 - the dating after trauma one ft. allyson roberts
*TRIGGER WARNING* This episode contains accounts of sexual assault. If you'd like to avoid, stop listening around minute 48 (we say trigger warning within the audio as well). Ali & Erica welcome cognitive behavior expert Allyson Roberts (@allysonroberts_ on TikTok & IG) onto the pod this week.
Episode #92 - the dating app openers one
Hey, listeners! Big question for you…what's your favorite dating app opener? We're sharing ours this week (and Erica has an idea that Ali just might steal) plus a few that you submitted! From keeping things interesting (even when they might not be) to dealing with an empty profile, this episode has got you covered.
Episode #91 - the chaotic singles one ft. cassidy davis
Finding Mr. Height is getting chaotic this week…chaotically single, that is. It's our first in-person guest interview where we sit down (on lawn chairs in Ali's empty apartment – apologies for the slight echo) with Cassidy Davis (@casidynashdavis), creator and host of the Chaotic Singles Parties you've seen all over TikTok.
Episode #90 - the introducing erica one
It's Erica's first official episode as Finding Mr. Height's new cohost! We're kicking things off with an introduction for the listeners using questions *from* the listeners.
Episode #89 - the farewell one
And…that's a wrap for Roark! Ali & Roark sit down for the last time to record her final episode. Emotions were high during this interview-style episode where Ali peppered Roark with questions from the listeners.
Episode #88 - the judging one ft. adam & evan
it's a podcast collab between Ali & Roark and Adam & Evan of the "I'll Be the Judge of That" pod. The four debate common dating scenarios and ask – "can you?" Like – can you get engaged at another person's party? You'll hear just about every perspective on this episode.
Episode #87- The First Cheating One
Shockingly, Ali & Roark haven't dedicated a podcast to the topic of cheating yet. Today changes that. They start by discussing a well-known dating question: once a cheater always a cheater?
Episode #86- The Eighth Grab Bag One ft. Therapy Jeff
Jeff joins the podcast for a Grab Bag episode that covers everything from the "ick" to the honeymoon phase to sleeping with someone "too early" to liking bad boys (and girls)!
Episode #85- The Sixth Hot Topics One
They answer listener questions about noticing a new dating prospect pulling away, feeling uncomfortable with a date's alcohol consumption, and deciding whether to continue seeing someone when there is a complicated past.
Episode #84- The Second Finances One Ft. Nicole Lapin
Ali records with author and financial expert Nicole Lapin this week. They talk about how finances can affect relationships and cover topics ranging from pre-nups, developing "FQ" (aka financial intelligence) & so much more!
Episode #83- The First Finances One
Thoughts and prayers to Ali & Roark this week as they wade into the murky waters of dating and finances. Money can be quite the taboo topic and they hope to start breaking that down by discussing sensitive questions.
Episode #82- The Fifth Hot Topics One
Ali & Roark tackle three Hot Topics: asking your partner to plan more dates, handling a partner's job opportunity in another country, and whether to date a virgin.
Episode #81- The Breakup Bestie One ft. Kendra Allen
This week, Ali & Roark chat with Kendra Allen aka Your Break Up Bestie! They talk all about actionable steps to recover from a break up, and they dive into Kendra's new book, "The Break-Up Workbook."
Episode #80- The Manifesting One ft. Haley Hoffman Smith
Ali & Roark welcome Haley Hoffman Smith to the podcast to talk all about manifesting. Haley is an author, podcaster, and manifestation coach and breaks down the concepts for Ali, Roark, and the listeners.
Episode #79- The Second Career One
This week they're talking about skills that make someone a good manager, how to be intentional in your career, and navigating imposter syndrome.
Episode #78- The Seventh Grab Bag One
They answer a variety of questions such as double-messaging on dating apps, dating someone who still co-habitates with their ex, how to respond when your new partner "drops a bomb," and dealing with a bad first kiss.
Episode #77- The First Career One
They share their very different career paths and start answering some listener questions about finding mentors, asking for a raise, and developing work/life balance.