You know what feels fantastic? Taking an amazing girls trip based loosely on the itinerary you originally created for a trip with your terrible ex boyfriend. Talk about a level up. Beautiful scenery, incredible food, vibrant nightlife, all with an affordable price tag. Cartagena was everything I imagined and more (especially without the constant fighting).
I'll take you through everything we did across the five nights we stayed there, throwing in a few tips we gathered along the way! I'm not a professional travel blogger, but I have planned more than my fair share of trips. I hope you find it helpful! As always, please reach out if you have any questions or want help tailoring this itinerary for your trip. And if you want to shop my vacation outfits, you can do that here!
Like maps? I created a MyMap of the trip – you can add it right to Google Maps to have all my recommendations right at your fingertips. All of the places I mention below are linked here!
This was my first time in Colombia, but I will absolutely be back. Let me know in the comments what else I need to see!
Overall Travel Notes
Stay in the walled city! I mention it below, but it's worth repeating. It's such a walkable area, the only time we took cabs was to get to the marinas for our boat excursions.
If no one in your group speaks Spanish, make sure someone has cell service to use Google Translate. Or better yet, brush up before you go!
It is going to be HOT. I thought I knew what hot meant…and I was wrong. The equator is no joke. I brought a denim jacket with me and laughed at myself while it sat in my room. Be sure to stock your house with lotsss of bottled water (the tap water isn't good to drink).
I didn't feel any less safe in Cartagena than I do in New York City! The same rules apply: walk in groups at night, keep your bag zipped and protected, keep to well-lit areas, etc.
Where To Stay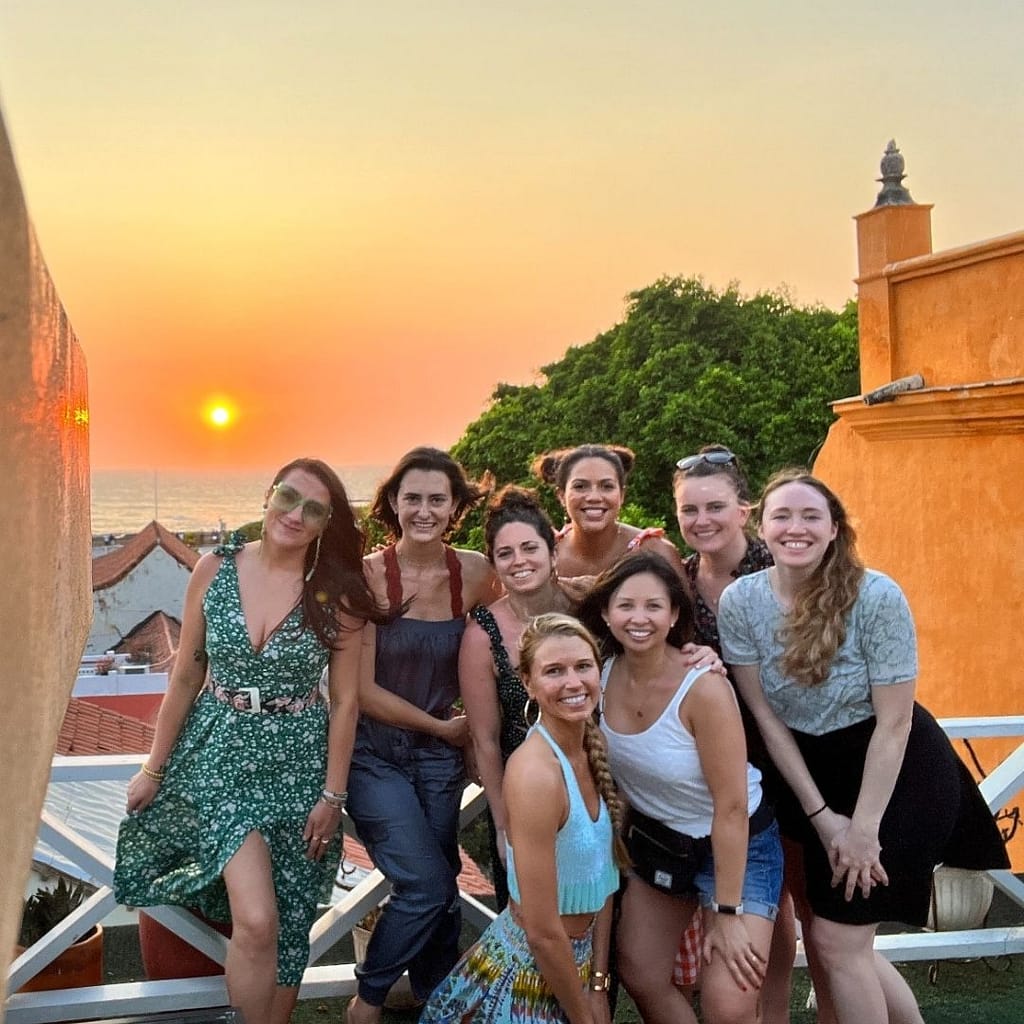 There are plenty of beautiful hotels in Cartagena, but for a group I always prefer an Airbnb. That photo above? It was taken by our house concierge next to our private rooftop pool. The house also comes with home-cooked breakfast every day. And all of that? It was about $250 a person for all five nights. If you have a group of 6-10 people, you must stay in this house. But regardless of group size, I have to reiterate to stay in the walled city – we walked everywhere from there!
A couple notes:
The listing says it sleeps 12 and I suppose it technically does, but you have to be comfortable sharing fairly small beds. If not, I'd go with 6-8.
The house is six stories (that's how you get that view) so prepare for a lot of stairs. Two of the bedrooms are on the rooftop!
The house description doesn't do justice to how amazing the services are in the house – breakfast is included, but you can also request groceries or any other meals for an additional. They will also help you with reservations or recommendations if you need them!
Itinerary: 5 nights
We arrived on a Wednesday afternoon and left on a Monday afternoon. I thought it was the perfect amount of time to see a lot of the city. Check out our daily itinerary below! Keep in mind that Days 3 & 4 were Friday & Saturday for us. I suggest scheduling your "clubbier" nights for the weekend! And know that a lot of restaurants will be closed on Sundays.
Day 1
Afternoon. Take an early flight from home so you can get in as much as you can on your first day. Be warned, customs took us 2 hours and most of that was spent outside in the heat! Grab a late lunch and drinks to go (we loved Taco Beach) and have your first meal on the roof of your house. Use the down time to order groceries (we stocked up on booze/snacks for the house plus LOTS of bottled water).
Evening. Make your first meal a traditional Colombian one at Candé (make a reservation). Be sure to try the ceviches and at least one rice dish (our fave was the crab & coconut rice below). Ask to sit in the atrium so you have a front row seat to the shows!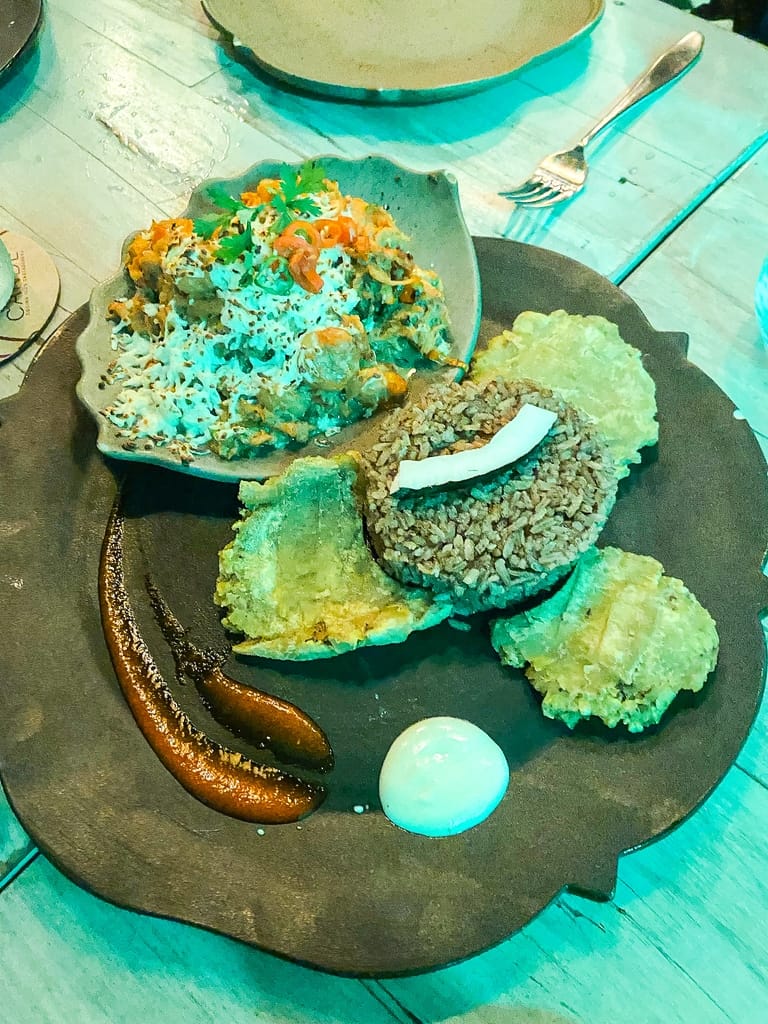 Late night. We kept it a little more low key on our first night and wandered back to our Airbnb, stopping into bars along the way. We knew we'd have plenty of late nights ahead of us plus doing a food tour the next day while hungover in the heat would be been terrible.
Day 2
Morning. Have breakfast at the house (it's included and DELICIOUS; pro tip, ask your concierge to pick up some champagne that you can mix with the house's fresh fruit juice). Head up to the pool afterwards with some beverages and spend the morning enjoying your new digs with a view. Don't forget your portable speaker!
Afternoon. Take a street food tour through Cartagena Connections. You'll discover delicious Cartagena treats plus it doubles as a city tour on your first day in town. We totally had our bearings afterwards! You'll even get to see the Getsemani neighborhood (more on that later, you'll be coming back). It will last a couple hours and you'll have more than enough for lunch.

Evening. Make late-ish dinner reservations (you'll be stuffed from your food tour) but beforehand BYOB to the wall around the city and watch the sun set. You could make reservations for drinks at Cafe Del Mar to do the same, but the view is just as good from the (free) space next door. For dinner: try Alma, Juan Del Mar, or Cuzco Cocina Peruana.
Late night. We lucked out and Colombia was playing in World Cup qualifier game while we were there – we watched at Clock Pub and stumbled upon their live band karaoke. So fun and you must try the pulled pork nachos. Stick around for dancing!
Day 3
Morning/Afternoon. A quick breakfast at the house, then it's off for a boat tour! Boating Cartagena has a variety of boats for different group sizes (we rented the Marlin, perfect for 8). They took us to 3 different island locations, including one party spot called Cholon (go on a Friday or Saturday for the best party!). We ate lunch there but next time I'd bring sandwiches because the food was definitely over-priced (though very good). The scenery is incredible and jumping off the boat into the ocean is a must. Make sure to bring plenty of beverages and water bottles for the boat!
Evening. We had our favorite dinner on our third night (after a much needed post-boat nap) at Carmen. It was the number one recommendation I got for Cartagena did NOT disappoint. We did the 7-course tasting menu, which was about $80 per person and would easily run you several hundred or more in the US. We considered the 11-course, but were so stuffed after 7 that we were glad we didn't do it. Every bite was perfect, especially this impeccably-cooked Colombian white fish. There's a wine pairing option, but I preferred their specialty cocktails!
Late Night. If you have it in you after all day on the boat, head over to the Getsemani neighborhood for salsa dancing at Cafe Havana. Doors open at 9 but bands often don't go on until later. Get there relatively early to beat the crowds!
Day 4
Morning/Afternoon. This ended up being our chill day, rather accidentally. We had heard that the island beach clubs turn up on Saturdays and headed over to Makani Beach Club to join the party. To our surprise, there was no DJ that particular weekend – but that turned out to be a blessing in disguise as we enjoyed relaxing by the pool and gearing up for what turned into quite the late evening. The bachelor party we met there, however, was not quite so pleased with the outcome. If you're set on partying, be sure to check the dates in advance! I've also heard great things about Blue Apple Beach Club. And if you want a massage or spa treatment, be sure to book in advance. Be warned, the boat ride back in the afternoon is not for the faint of heart. Choppy waters like WOAH.
Evening/Late Night. We had our hearts set on clubbing at La Jugada on Saturday night, but had no interest in waiting in line or paying a cover fee to get in. The solution? We made a dinner reservation around 9 and stuck around for the party to get going. Being far too familiar with clubstaurants in NYC, we assumed the food was going to be mediocre. We were so wrong! The menu is kind of random (short ribs and lobster rolls? Sure, why not.) but delicious and surprisingly affordable. After dinner, we planned to buy a bottle inside, but ended up meeting some guys who had a table on the Pink Flamingo rooftop section of the club. What can I say, we were a group of 8 women. If you're not as willing to fly by the seat of your pants, the Pink Flamingo is the place you want your table. What. A. Night.
Day 5
Morning. On our last day, we specifically left our itinerary flexible and open. When the day arrived, we were feeling like we had neglected house hangs, so on our last morning that's exactly what we did. We enjoyed another amazing breakfast from Mercedes and then headed up to the rooftop pool to enjoy the sun.
Afternoon. A few of us wanted to do some shopping and we were itching to get back over to Getsemani to explore over there. We first dropped by one of our favorite food stands from the food tour for a snack and also stumbled upon a cluster of ceviche stands – delicious. Both are pinned on my map! On our way to Getsemani, we wandered into boutiques and ended up finding some incredible jewelry and art. I fell in love with a painting from an artist in the Getsemani neighborhood and can't wait to hang it in my apartment. His location is also on my map along with some other shops we found.
Evening. As I mentioned up top, our last night was a Sunday and we realized that a lot of restaurants were closed. We definitely should have made reservations in advance! Our concierge helped us get into Montesacro, which had live music and an adorable outdoor balcony (that people who had made reservations got to enjoy lol). It was amazing though! Other options we heard were great but didn't get to try are Alma and Juan Del Mar.
Day 6
Morning/Afternoon. Our last breakfast! Time to finish all the leftover champagne with fresh fruit mimosas. Our flight wasn't until the afternoon, so we had time to wander around a bit more and had lunch at Cuzco Cocina Peruana, which was right around the corner from our place. The ceviche was incredible! Speaking of incredible ceviche, we didn't get to Anthony Bourdain's rec, La Cevicheria, but definitely need to next time. Our concierge booked us a van taxi to the airport, and we were off! Missing the city already.
In Conclusion
Cartagena was everything I had imagined, and more. It was truly the best vacation I've ever been on. Our itinerary gave us enough structure (and ensured we didn't miss out on anything we truly wanted to do) while leaving us enough flexibility to call audibles and pivot where we wanted. Do you have questions? Suggestions? Comment below or shoot me a DM on Instagram! I love hearing from you.